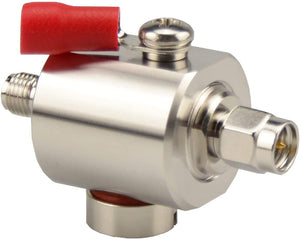 Antenna Lightning Arrestor / Surge Protector
ASP-SMA-6G
Antenna Lightning Arrestor / Surge Protector
SMA Male to SMA Female Connectors
For Wireless Control Systems
Operating Frequency For 433 MHz, 900 MHz or 2.4 GHz
Replaceable Gas Tube Element 90V with High Surge Power Capability
Low Loss and VSWR with 50 Ohms Impedance.
Coaxial Surge Protector designed to operate over the frequency range of 0-6 GHz.
It uses a gas discharge tube to protect connected equipment against transients and surges caused by lightning strikes. It features standard 50 Ohm SMA-Male to SMA-Female coaxial connectors.

This device is designed to be placed between wireless transmitter or receiver and antenna cable connection and needs to be earth grounded. 

Electrical Specifications:
Input Impedance: 50Ω
Frequency Range: DC - 6 GHz
Durability: ≥ 500 cycles
VSWR: <1.3:1
Insertion Loss: <0.4dB
DC Breakdown Voltage: 90 V
Mechanical & Environmental:
Connector Types: SMA-Male to SMA-Female
Connector Body Material: Brass nickel plated
PinBody brass gold plated
Insulator Material: PTFE( Teflon)
Temperature Range: (-55℃ to +155℃)