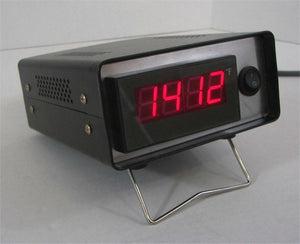 Economical Benchtop Temperature Meter - J, K Thermocouple or RTD (PT100)
BTM1-XL-JF
Benchtop Temperature Meter - J, K Thermocouple or RTD (PT100)
Features:
LED Digital Temperature Indicator
Accurate Up To ± 1 ºF/C
Rugged, Vented, Metal Benchtop Design
Preassembled, Prewired, Ready-To-Use
Available in J, K Thermocouple or RTD (PT100) Calibration
Pre-set Readout Displays in ºC or ºF
Applications:
R & D Laboratory Use
Equipment Sterilization
Food & Pharmaceutical Processing
Description:
Series BTM1-XL are low cost, compact Benchtop Temperature Meters that provide accurate temperature measurement for a variety of laboratory and industrial applications. Units can be ordered as Type-J or K Thermocouple, or as RTD (PT100) calibration. The metal enclosure is compact at only 2.6" high x 5.5" wide x 6.7" deep. The unit operates on 120VAC and consists of a high performance temperature meter with one pre-wired thermocouple panel jack. Temperature is easily measured by connecting any standard thermocouple or RTD (PT100) sensor. A switch on the front panel controls power to the unit. Standard features include a fused power cord, vented enclosure and integral tilt stand. The sensor is connected via an industry standard miniature jack located on the rear panel (mating connector Included).

GENERAL SPECIFICATIONS
Temperature Measurement Accuracy: ± 1.8 ºF (1 ºC)
Display: 3 1/2-digit LED
Display Resolution: 1º
Operating Voltage: 110-120V AC, 50/60 Hz
Meter Fusing: 250mA (Internal)
Operating Temperature: 32 to 104 ºF (0 to 40 ºC)
Enclosure: Painted Steel Body, Aluminum Panels
Dimensions: 2.6" H x 5.5" W x 6.7" L
Available Models
 Model Number
 Input Type
 Temperature Range

 BTM1-XL-JF

 Type-J Thermocouple (ºF)

 

 -328 ~ 1382 ℉

 BTM1-XL-JC

 Type-J Thermocouple (ºC)

 -200 ~ 750 ℃ 

 BTM1-XL-KF

 Type-K Thermocouple (ºF)

 -328 ~ 2372 ℉

 BTM1-XL-KC

 Type-K Thermocouple (ºC)

 -200 ~ 1300 ℃

 BTM1-XL-PT100F

 RDT, PT100 (ºF) a= 0.00385

 -328 ~1112 ℉

 BTM1-XL-PT100C

 RDT, PT100 (ºC) a= 0.00385

 -200 ~ 600 ℃