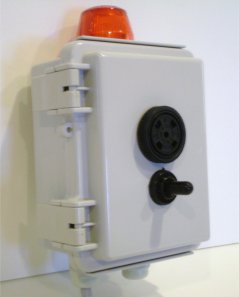 Compressor Alarm Panel - Compact Design - Built-in Pressure Switch - 110V AC
CAP1-110V-TB
Compressor Alarm Panel - Compact Design - Built-in Pressure Switch - 110V AC
Models:
CAP1-110V-TB (with Terminal Block Power Connection)
CAP1-110V-PC (with Integral Power Cord Connection)
Features

Miniature, Compact, Industrial Design
Audible Buzzer / Visual Alarm Light
External "On-Silence-Test" Switch
Weather Resistant NEMA 4X Enclosure
110V AC 50/60 Hz Operation
Automatic Alarm Reset
Externally Mounted Pressure Port
With or Without Integral Pre-wired Power Cord
Applications
Loss of Pressure Alarm
Aerobic System Monitoring
Description
Model CAP1-120V Compressor Alarm Box is designed for indoor or outdoor use. The unit features a non-metallic rugged enclosure, an alarm light, piezo buzzer, and external "On-Silence-Test" switch. The unit is design to provide an audible and visual warning to notify of compressor failure. Integral 1 psi pressure switch included.
Models:
CAP1-110V-TB (with Terminal Block Power Connection)
CAP1-110V-PC (with Integral Power Cord Connection)
Specifications
Model No: CAP1-110V
Alarm Indication: Red Light/Piezo Horn: 85 dB
Operating Voltage: 110V AC. 50/60 Hz 
Power Connection: Integral Power Cord or Terminal Block
Alarm Reset: Automatic
Pressure Connection: 1/8" NPT
Integral Pressure Switch: 1 PSI
Enclosure: Wall Mounted, (PC/PBT) Plastic Blend, UL Listed, NEMA 4X
Operating Temperature: -40 to175 ºF (-40 to 80 ºC)
Installation: For Indoor or Outdoor Use
Dimensions: 5.11 X 3.93 x 2.75" (130 x 100 x 70mm)