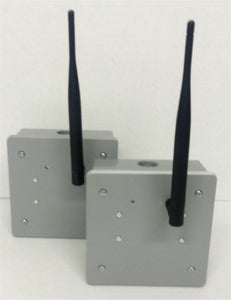 Industrial Long Distance 900 MHz Wireless Remote Control Switch Transmitter / Relay Receiver with 30A Control Relay
XTR-WRC-900-1-30A
Industrial Long Distance 900 MHz Wireless Remote Control Switch Transmitter / Relay Receiver with 30A Control Relay
Model: XTR-WRC-900-1-30A
Features
Provides Wireless Bridge Between Switch & Relay
Activate Transmitter with Any Dry-contact Switch
Up To 6 Miles Line-of-site Transmit/Receive Distance
Receiver has 30 Amp DPDT Control Relay
Powered by any 12V-14V DC Supply
Painted NEMA 4X Aluminum Enclosures
Pre-configured, Ready-To-Operate
Sold As Transmitter/Receiver Matched Set
License Free Radio Operation
Applications
Pump or Motor Control
Valve Activation, Gate or Lighting Control
Description
The XTR-WRC-900 Series Wireless Industrial Remote-Control System is for remotely activating equipment from a distance up to 6 miles away using license free wireless communication. The switch transmitter is equipped with one contact closure input that is used to control a DPDT Relay in the receiver unit. Unit is activated with any type dry-contact switch or connected to a PLC for automated control.

Each system is sold as a factory programmed matched set. That means there is no field settings needed to operate right out of the box. Power for the transmitter or receiver can come from any external 12-14V DC power supply or battery.

NOTE: UNITS ARE FACTORY PROGRAMMED AS A SINGLE MATCHED SET. IF YOU WANT TO USE ONE TRANSMITTER TO CONTROL MORE THAN ONE RECEIVER, OR MORE THAN ONE TRANSMITTER TO CONTROL A SINGLE RECEIVER, PLEASE CONTACT US PRIOR TO PURCHASING SO WE CAN CUSTOMIZE A GROUP OF UNITS FOR YOU SPECIFIC TO YOUR APPLICATION. THERE IS NO EXTRA CHARGE FOR THIS SERVICE.
General Specifications
Radio Frequency: 900Mhz
Regulatory: FCC Part 15 (No license required)
Control Lines: 1
Antenna Connection: RP-SMA
Antennas: 7dbi, Omni-directional (Included)
Transmit/Receive Distance:
with included antennas: Indoor/Urban 1000ft, Line-of-site 3 Miles
with optional antennas: Indoor/Urban 1600ft, Line-of-site 6 Miles
Transmitter/Receiver Code Matching: Factory set
Wire Connection: Terminal Blocks
Operating Temperature: -22 to 113 ºF (-30 to 45 ºC)
Enclosures: NEMA 4X, Painted Aluminum
Switch Transmitter Specifications
RF Power Output: 250mW
RF Output Impedance: 50 Ohm nominal
RF Data Rate: 10 kbps
Operating Power 12-14V DC @ 3W max
Control Input Type: Dry-contact Switch
Relay Receiver Specifications
Receive Sensitivity: -110 dBm
Operating Power: 12-14V DC @ 3W max
Control Output: 30Amp, 120/240V DPDT Relay
Regulatory Approvals
FCC(USA) - MCQ-XB900HP
IC (Canada) - 1846A-XB900HP
Available Models
| | | |
| --- | --- | --- |
|  Model No. | Description | Control Lines |
| XTR-WRC-900-1-30A | Industrial 900 Mhz Wireless 1-Line Remote Control Transmitter/Receiver Set | 1 |

Long Distance Antenna Options
| | |
| --- | --- |
|  Model No. | Description |
| DRWC-900-LRANT | Optional 900 MHz Long-Range Directional Antenna (up to 6 Miles line-of-site) |
Each Transmitter/Receiver Set includes standard antennas and manual.