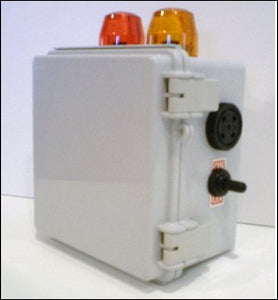 Dual Input Universal Alarm Panel - 120V or 240V AC Models
UAP2-120VAC
Dual Input Universal Alarm Panel - 120V or 240V AC Models
Model(s) (SKU): 
UAP2-120VAC (120V AC Operation)
UAP2-240VAC (240V AC Operation)
Features
Rugged, Industrial Design
88db Audible Piezo Horn
Amber & Red Warning Lights
Power, Silence & Test Switch
120V or 240V AC 50/60 Hz (Select Model)
Automatic Alarm Reset
Applications
Sump Pump Basins, Holding Tanks
Water, Holding & Sewage Tanks
High or Low Temperature Alarm
Float Switch Alarm Panel
Industrial Process Monitoring
Description
Model UAP2 Universal Alarm Box is designed for indoor or outdoor use. The unit features a non-metallic, NEMA 4X, rugged enclosure, both amber and red warning indicators, piezo horn, and a external "power", silence" and test switch. The unit is design to provide a loud audible and visual warning to notify of any two different alarm conditions. Any type dry-contact pressure, flow, level, or temperature switch will activate this alarm panel.
Specifications
Alarm Indication: Amber Light, Red Light, Piezo Horn: 88 dB
Operating Voltage: 120V or 240V AC 50/60 Hz (by Model)
Alarm Reset: Automatic
Switch Connection: Terminal Block ( Dry Contact Input Only)
Enclosure: Wall Mounted, (PC/PBT) Plastic, NEMA 4X
Power Connection: Terminal Block
Operating temperature: -40 to175 ºF (-40 to 80 ºC)
Installation: For Indoor or Outdoor Use
Dimensions: 5.9 X 5.9 x 3.54" (150 x 150 x 90mm)