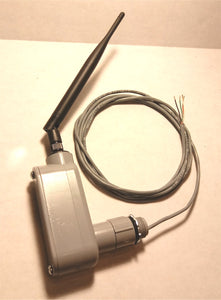 Industrial Wireless 4-20mA Transmitter/receiver Set - Mounts on Industrial Enclosures - 1 Mile
XT-WRC-24-420MA-EM
Industrial Wireless 4-20mA Transmitter/receiver Set - Mounts on Industrial Enclosures
Model: XT-WRC-24-420MA-EM
Note: The standard antennas included with this model allow for a maximum line-of-site (LOS) distance of 600 ft. For greater distances up to 1 mile you will need the long distance antenna option. Order optional antenna model DRWC-24-LRANT.

Features
Provides Wireless Bridge for 4-20mA Loop Signal
Receiver Output Mirrors Transmitter Input
Receiver Provides 4-20mA or 1-5V DC Output
Up To 1 Mile Line-of-site Transmit/Receive Distance
12-24V DC Operation
PVC Enclosure with 1/2" NPT Mounting

Pre-configured, Ready-To-Operate
Sold As Transmitter/Receiver Matched Set
License Free Radio Operation
Applications
Process Transmitter Signals
Valve Positioning & Control
Remote Sensor Monitoring
Description
The WDRXL-24B-420MA Wireless Analog Transmitter/Receiver System allows for remotely monitoring or controlling equipment from a distance up to 1 mile away using license free wireless 2.4GHz 802.15.4 communication. Each set features one 4-20mA analog signal input transmitter and output receiver. 
General Specifications
Radio Frequency: ISM 2.4Ghz
Process Input Lines: One 4-20mA
Signal Transmit/Receive Accuracy: +/- 0.5% of range
Open Input or Lost Signal Condition: Output Holds Last Reading
Reading Update Rate: 250ms
Antenna Connection: RP-SMA
Antennas: 5dbi, Omni-directional (Included)
Transmit/Receive Distance:
with included antennas: Indoor/Urban 100', Line-of-site 600'.
with optional antennas: Indoor/Urban 300', Line-of-site 1 Mile.
Transmitter/Receiver Code Matching: Factory set
Wire Connection: Terminal Blocks
Operating Temperature: -22 to 113 ºF (-30 to 45 ºC)
Enclosures: PVC, Conduit Body, 1/2" Mount (Condelette)

Transmitter Specifications
RF Power Output: 79mW
RF Output Impedance: 50 Ohm nominal
RF Data Rate: 10 kbps
Operating Power 12 - 24V DC @ 3W max
Process Input: Analog 4-20mA

Receiver Specifications
Receive Sensitivity: -103 dBm
Operating Power: 12 - 24V DC @ 3W max
Process Output: Analog 4-20mA or 1-5V DC
Regulatory: FCC Part 15 (No license required)
FCC(USA) - MCQ-XBEE3
IC (Canada) - 1846A-XBEE3