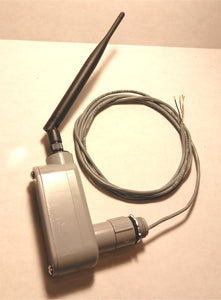 Industrial Wireless Remote-Control Set - Mounts on Industrial Enclosures
XT-WRC-EM24-1
Industrial Wireless Remote-Control Set - Mounts on Industrial Enclosures
Series: XT-WRC-EM (Price includes both transmitter and receiver set)
Note: This models Receiver has Open-collector outputs. It does not have relays in the receiver. It requires you add your own external relay. For models that come with built-in relays in the receiver see model... XT-WRC-EM-R
Features
Provides Wireless Bridge Between Switches & Relays
Activate Transmitter with Any Dry-contact Switch
Mounts Directly to Standard Control Enclosures
Models Available With 1, 2 or 4 Control Lines
Up To 6 Mile Line-of-site Transmit/Receive Distance
Receiver Provides Open-collector Output
Powered by any 12-24V DC Supply
Mounts Externally onto Industrial Enclosures
Pre-configured, Ready-To-Operate
Sold As Transmitter/Receiver Matched Set
License Free Radio Operation
Applications
Pump or Motor Control Panels
Alarm Panels
Valve Activation, Gate or Lighting Control
DESCRIPTION
The XT-WRC-EM transmitters and receivers are designed for use in various wireless remote-control applications. When triggered with an external dry-contact switch, the switch transmitter will send a digital encoded, FSK modulated signal to its companion control receiver. The receiver will verify the digital code and then activate its open-collector output to drive relays, lights or alarms.

Each system is sold as a factory programmed matched set. That means there is no field settings needed to operate right out of the box.
Power for the transmitter or receiver can come from any 12-24V DC power supply or battery. An internal fuse protects each unit from a reverse power connection.
This model is designed to be mounted directly to standard enclosures with a ¾" drilled hole or knockout.
NOTE: UNITS ARE FACTORY PROGRAMMED AS A SINGLE MATCHED SET. IF YOU WANT TO USE ONE TRANSMITTER TO CONTROL MORE THAN ONE RECEIVER, OR MORE THAN ONE TRANSMITTER TO CONTROL A SINGLE RECEIVER, PLEASE CONTACT US PRIOR TO PURCHASING SO WE CAN CUSTOMIZE A GROUP OF UNITS FOR YOU SPECIFIC TO YOUR APPLICATION. THERE IS NO EXTRA CHARGE FOR THIS SERVICE.
2.4 GHz General Specifications
Radio Frequency: 2.4 GHz
Regulatory: FCC Part 15 (No license required)
Control Lines: 1, 2 or 4
Antenna Connection: RP-SMA
Antennas: 5dbi, Omni-directional (Included)
Transmit/Receive Distance:
with included antennas: Line-of-site (LOS) up to 600ft.
with optional antennas: Line-of-site (LOS) up to 1 Mile.
Transmitter/Receiver Code Matching: Factory set
Wire Connection: 4' Cable with stripped leads
Operating Temperature: -22 to 113 ºF (-30 to 45 ºC)
Enclosures: PVC, Conduit Body, 1/2" Mount (Condelette)

Switch Transmitter Specifications
RF Power Output: 79mW
RF Output Impedance: 50 Ohm nominal
RF Data Rate: 10 kbps
Operating Power 12-24V DC @ 3W max
Control Input Type: Dry-contact Switch

Receiver Specifications
Receive Sensitivity: -103 dBm
Operating Power: 12-24V DC @ 3W max
Control Output: Open collector, 24V DC, 100mA Max
900 MHz General Specifications
Radio Frequency: 900 Mhz
Regulatory: FCC Part 15 (No license required)
Control Lines: 1, 2 or 4
Antenna Connection: RP-SMA
Antennas: 7dbi, Omni-directional (Included)
Transmit/Receive Distance:
with included antennas: Line-of-site (LOS) up to 3 Miles.
with optional antennas: Line-of-site (LOS) up to 6 Miles.
Transmitter/Receiver Code Matching: Factory set
Wire Connection: 4' Cable with stripped leads
Operating Temperature: -22 to 113 ºF (-30 to 45 ºC)
Enclosures: NEMA 4X, Plastic
Switch Transmitter Specifications
RF Power Output: 250mW
RF Output Impedance: 50 Ohm nominal
RF Data Rate: 10 kbps
Operating Power 12-24V DC @ 3W max
Control Input Type: Dry-contact Switch
Receiver Specifications
Receive Sensitivity: -110 dBm
Operating Power: 12-24V DC @ 3W max
Control Output: Open collector, 24V DC, 100mA Max
Available Models
XT-WRC-EM24-1 Industrial Wireless 1-Line 2.4 GHz Remote Control Transmitter/Receiver
XT-WRC-EM24-2 Industrial Wireless 2-Line 2.4 GHz Remote Control Transmitter/Receiver
XT-WRC-EM24-4 Industrial Wireless 4-Line 2.4 GHz Remote Control Transmitter/Receiver
XT-WRC-EM900-1 Industrial Wireless 1-Line 900 MHz Remote Control Transmitter/Receiver 
XT-WRC-EM900-2 Industrial Wireless 2-Line 900 MHz Remote Control Transmitter/Receiver 
XT-WRC-EM900-4 Industrial Wireless 4-Line 900 MHz Remote Control Transmitter/Receiver 
Available Options
DRWC-24-LRANT-11 Optional 2.4 GHz Long-Distance 11dbi Directional Antenna (up to 1 Mile line-of-site)
DRWC-900-LRANT-9 Optional 900 MHz Long-Distance 9dbi Directional Antenna (up to 6 Miles line-of-site)