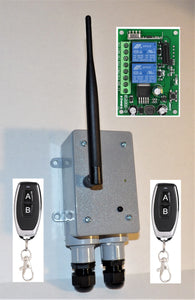 Handheld Key Fob Wireless Remote Control Switch with Weatherproof Relay Receiver
IDKF-433-PC-2
Handheld Key Fob Wireless Remote Control Switch with Weatherproof Relay Receiver
Model: IDKF-433-PC-2
Features
Wireless Bridge Between Key-fob Switches & Relays
Includes 2 Battery Powered Key-fob Units

2 Control Lines

Up To 200ft Line-of-site Transmit/Receive Distance
Included Receiver has Two 10 Amp SPDT Control Relays
Receiver Powered by 12V DC Supply
Receiver Features a Weatherproof PVC Enclosure

Pre-configured, Ready-To-Operate
Sold As Key-fob Transmitter/Relay Receiver Matched Set
433 MHz License Free Radio Operation
Applications
Pump or Motor Control
Valve Activation, Gate or Lighting Control
Description
The IDKF-433-PC-2 Wireless Remote Control Key-fob Switch with Relay Receiver are for remotely activating equipment from a distance up to 200ft  away (with optional antenna) using license free wireless communication. Each Key-fob switch Transmitter is equipped with 2 buttons that are used to control SPDT Relays in the receiver unit. 

Each system is sold as a factory programmed matched set. That means there is no field settings needed to operate right out of the box. The Key-fobs are battery powered. Power receiver can come from any external 12V DC power supply.
General Specifications
Radio Frequency: 433 MHz
Operating Modes:  jog, self-locking and interlocking. 
Factory Default Mode: self-locking (Press-on/Press-off).
Control Lines: 2
Receiver Antenna Connection: RP-SMA
Receiver Antenna: 5dbi, Omni-directional (Included)
Transmit/Receive Distance:
with included antenna: Line-of-site (LOS) up to 150ft.
with optional antenna: Line-of-site (LOS) up to 200ft.
Transmitter/Receiver Code Matching: Factory set
Receiver Wire Connection: Terminal Block
Operating Temperature: -22 to 140 ºF (-30 to 60 ºC)
Receiver Enclosure: PVC
Key-fob Switch Transmitter Specifications
Operating Power: Battery (CR2032)
Modulation: ASK
Control Lines/Buttons: 2
Control Type: Push-button
Receiver Specifications
Receive Sensitivity: -105 dBm
Operating Power: 12V DC
Included Antenna: 3 dbi
Control Output: 10 Amp, 120/240V SPDT Relays
Available Options
| | |
| --- | --- |
|  Model No. | Description |
| WKF433-100-2B | Replacement/Spare 2-Button Key-fob |
| XTSD-433-MDANT-5DBI | Optional 433 MHz Medium Distance Omni Antenna (up to 200ft line-of-site) |
| ACWA-120-12V-1A | Power Supply, 120V AC to 12V DC Converter (1A) |
| ANT-EXT | Antenna Extension Cables |

Each System includes: 2 Each Key-fobs, 1 Relay Receiver, standard omni antenna and manual.