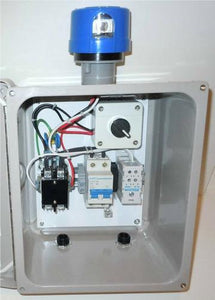 Lighting Control / Contactor Panel with Integral Standard Twist-lock Photocell Socket - 240V AC Operation
LCP-FB-240-2P-20A
Lighting Control/Contactor Panel with Integral Standard Twist-lock Photocell Socket - 120V AC Operation
Features
Fiberglass Enclosure For Outdoor or Indoor Use
Twist-lock Sensor Socket Mounted on Enclosure
Works with Standard Twist-lock Photocell Sensors
Pre-assembled, Pre-wired, Ready to Install
Models with 10, 20 and 30 Amp Capacity
Available with 2-Pole or 3-Pole Contactor
Din-Rail Mounted Circuit Breakers
240V AC, 50/60 Hz Operation
MOV Surge Protected Contactor
Models with Integral "On-Off-Auto" Switch
Applications
Parking Lots & Security Lighting
Business Signs
Sporting Fields & Stadium Lighting
Storage Yards
Marinas & Boat Docks
Description
LCP-FB-240 Series Lighting Control Panels are pre-configured, pre-wired and ready to install. The series provides a fast, economical solution for controlling 240V AC lighting applications. Each pre-assembled unit features a NEMA 4/4X rated enclosure, din-rail mounted circuit breakers and a mounted twist-lock socket for photocell sensors.
Specifications
Contactor Voltage: 240V AC 50/60 Hz
Control Voltage: 2400V AC, 50/60 Hz
Control Type: Photocell Sensor (Twist-lock Style)
Main Enclosure: Fiberglass/Plastic Blend, NEMA 4, 4X
Remote Sensor Enclosure: PVC
Operating Temperature: -40 to180 ºF (-40 to 82 ºC)
Main Enclosure Dimension: 11.8 X 9.9 x 6.8"
Photo Sensor is not included and must be ordered separate.
Available Models
 Model Number

 Capacity

(Amps)

 Contactor

Poles

"On-Off-Auto"
Switch
LCP-FB-240-2P-20A
20
2
No

LCP-FB-240-2P-20A-CS

20
2
Yes

LCP-FB-240-2P-30A

30
2
No

LCP-FB-240-2P-30A-CS

30
2
Yes

LCP-FB-240-2P-40A

40
2
No 

LCP-FB-240-2P-40A-CS

40
2
Yes

LCP-FB-240-3P-20A

20
3
No 

LCP-FB-240-3P-20A-CS

20
3
Yes

LCP-FB-240-3P-30A

30
3
No

LCP-FB-240-3P-30A-CS

30
3
Yes

LCP-FB-240-3P-40A

40
3
No

LCP-FB-240-3P-40A-CS

40
3
Yes