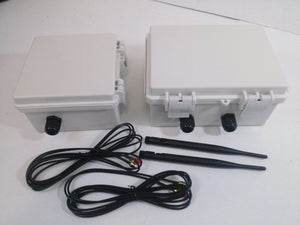 Long Distance Wireless Remote Control System with 2, 3 or 4-Pole Contactor and Latching Option
WCS-CT-900-1-2P
Long Distance Industrial Wireless Remote Control System with 2, 3 or 4-Pole Contactor
 Series: WCS-CT-900
Features
Wireless Bridge Between Switch & Control Panel
Activates With Dry-contact Switch, Controller or PLC
Up To 6 Mile (LOS) Transmit/Receive Distance
Use to Control Pumps, Valves, Motors or Lighting
Available with Standard or Latching Contactor Circuit
Transmitter Can Be Hardwired, Battery or Solar Powered
Pre-wired, Ready To Install and Operate
License Free Point-to-point Radio Operation
Applications
Pump or Motor Control
Valve Activation
Gate or Lighting Control
Description
Series WCS-CT-900 Long Distance Wireless Transmitter/Control Panel System provides a wireless bridge between any type dry-contact switch, PLC or Controller and an electro-mechanical contactor. When a switch
connected to the transmitting unit opens or closes signals are sent via a license free radio signal to a receiver unit up to 6 miles (Line-of-site) away. When the control panel receives the proper wireless signal from the transmitter a power contactor inside the panel is energized to operate a pump, valve or motor. Control Panel models feature latching or non-latching versions. Models are available with 2, 3 or 4-Pole Contactors.
System Operation
Non-latching Model
Non-latching models feature one control line that turns the contactor on and off.
latching Model
Latching models feature two control lines. One control line latches the contactor into the on position. The second control line releases the contactor back to the off position. This setup is most often used with two level switches controlling the fill of a tank.
General Specifications

Radio Frequency: 900 MHz
Regulatory: FCC Part 15 (No license required)
Control Lines: 1, 2 ,3  or 4
Antenna Connection: RP-SMA
Antennas: 7dbi, Omni-directional (Included)
Transmit/Receive Distance:
with included antennas: Indoor/Urban 1000ft, Line-of-site 3 Miles
with optional Yagi antennas: Indoor/Urban 1600ft, Line-of-site 6 Miles
Transmitter/Receiver Code Matching: Factory set
Wire Connection: Terminal Blocks
Operating Temperature: -22 to 113 ºF (-30 to 45 ºC)
Enclosures: NEMA 4X, PCT Plastic
Switch Transmitter Specifications
RF Power Output: 250mW
RF Output Impedance: 50 Ohm nominal
RF Data Rate: 250 kbps
Operating Power 12 DC @ 3W max (120V AC with Power Converters)
Control Input Type: Dry-contact Switch
Contactor Receiver Specifications
Receive Sensitivity: -110 dBm
Operating Power: 12 DC @ 3W max (120V AC with Power Converters)
Control Output: 1. 2 or 3-pole Contactor, 40A, 120/240V Max
Regulatory Approvals
FCC(USA) - MCQ-XB900HP
IC (Canada) - 1846A-XB900HP

Available Base Models
| | | |
| --- | --- | --- |
|  Model No. | Description | Control Lines |
| WCS-CT-900-1 | 1-Line Remote Control Transmitter/Receiver Set | 1 |
| WCS-CT-900-2L | 2-Line Remote Control Transmitter/Receiver Set with Latching Circuit | 2 |

Long Distance Antenna Options
| | |
| --- | --- |
|  Model No. | Description |
| DRWC-900-LRANT | Optional 900 MHz Long-Range Directional Antenna (up to 6 Miles line-of-site) |
Each Transmitter/Receiver Set includes standard antennas, 6ft. antenna extension cables and manual.