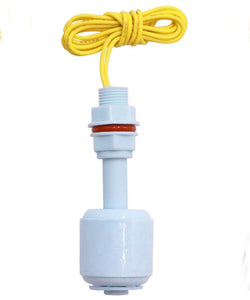 Plastic Float Switch - Polypropylene Construction
PPFS-220V-10W
Plastic Float Switch - Polypropylene Construction
Series: PPFS-220V-10W
Features
Polypropylene Construction

Vertically Mounted
110-220V AC, 10W Max

Applications
High or Low Water Alarm
Water Tank Level Controls
Description
This float switch is a device used to sense the level of liquid within a tank. When used to activate a relay or contactor this switch can turn on a pump, an indicator, an alarm, or other device. The versatility of this vertically mounted sensor means that it can be installed either at the top or bottom of your tank, depending on whether you need to detect the water's rise or fall.
Specifications
Max Contact: Rating 10W ;
Max Switching Voltage: 220V DC ;
Max Switching Current: 0.5A ;
Max Contact Resistance: 100m ohm
Float Ball Size (Approx.): 24 x 24mm/0.94" x 0.94" (L*D) ;
Total Length: 66mm / 2.6" ;
Cable Length: 40cm/15.7"