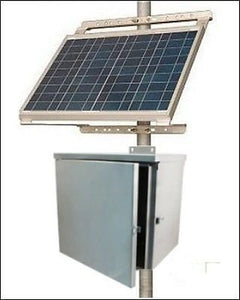 Solar Power System for Wireless Remote Controls
SPSXL-12-VDC-30W-18
Off-grid Solar Power System for Industrial Controls & Instrumentation
Models: 
SPSXL-12-VDC-30W-18 (For Wireless Switch Transmitters)
SPSXL-12-VDC-50W-35 (For Wireless Relay Receivers)
Features
Regulated Power for Wireless Controls
3-day Battery Reserve Power
Provides 12V DC Output
NEMA 3R Powder Coated Metal Enclosure
Pre-assembled, Pre-wired, Ready-To-Install
Pole Mounted Solar Panel
Deep-cycle 12V SLA Maintenance Free Solar Battery
Applications
Wireless Sensors, Transmitters, Base Stations, Modems
Wireless Switch Transmitters & Relay Receivers
Process Controls, Instrumentation
Oil & Gas Instrumentation
Irrigation Drip System, Water Pumping, Valves
Pond Aeration System
Flow Meters, pH Transmitters Level Sensors, Data Loggers
SCADA & Radio Telemetry Systems
Description
Each system comes pre-wired and includes a solar panel, battery enclosure with a gasketed hinged door and closure buckles, solar panel bracket, solar charge controller, fusing, solar power cables and SLA deep-cycle solar battery. Each model includes all the required system components to get you up and running right out of the box. 
Specifications
Operating Temperature: -40 to 140 ºF (-40 to 60 ºC)
Wire Connections: Din-rail Terminal Blocks (14 – 24 AWG)
Solar Panel Bracket: Aluminum, Pole Mounted
Output Power for Equipment: 12V DC
Solar Power Cables: 14 AWG, 9' long, MC4 Connectors
Enclosure: NEMA 3R, Powder Coated GA

Note: Mounting pole note included. Requires 2" or 2 1/2" standard
metal conduit pole for mounting.
| | | |
| --- | --- | --- |
| Model Number | SPSXL-12-VDC-30W-18 | SPSXL-12-VDC-50W-35 |
| Output Capacity | 55 Watts/day | 100 Watts/day |
| Solar Panel | 30 Watt, 12V | 50 Watt, 12V |
| Charge Controller | 12V, 6A | 12V, 10A |
| Battery Capacity | 12V, 18 Ah | 12V, 35 Ah |
| Reserve Time @ Rated Capacity | 3 Days (72Hrs) | 3 Days (72Hrs) |