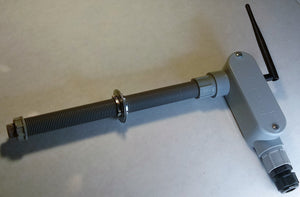 Wireless Duct Mount Relative Humidity (RH) Transmitter - Up to 1 Mile Operation
WRHT-DM100-EMR
Wireless Duct Mount Relative Humidity (RH) Transmitter - Up to 1 Mile Operation
Model: WRHT-DM100
Features
Wireless Bridge Between RH Sensor & Process Instrument
Digital RH Sensor in Duct Mount Design

Up To 1 Mile Line-of-site Transmit/Receive Distance
3-95% Humidity Measurement Range
Accurate To +/- 3 % Relative Humidity
2-24V DC, Hardwired, Battery or Solar Powered
Receiver Provides 4-20mA , 1-5V or 0-5V DC Analog Output
License Free Point-to-point Radio Operation
Applications
Laboratory and Research Facilities
Storage Room, Wine Cellar
Workplace Environmental Monitoring
Warehouse Monitoring
Description
Model WRHT-DM100 Wireless Duct Mount Relative Humidity Transmitter provides a license free 2.4 GHz wireless bridge between RH sensor and process instrument at a distance up to 1-mile line-of-site (LOS). The sensor/wireless transmitter combination accomplishes Humidity measurement by providing a 4-20 mA / 1-5V DC, or 0-5V DC output on the wireless receiver side that corresponds to the % Humidity measured by the sensor. Connect the receiver output to a process instrument or PLC.
General Specifications
Radio Frequency: 2.4Ghz
RF Output Impedance: 50 Ohm nominal
Transmitter/Receiver Code Matching: Factory set
Wire Connections: Terminal Blocks (14 – 24 AWG)
Antennas: 5dBi Antenna (Included with system)
Transmit/Receive RF Distance:
Up to 600' Line-of-sight (With Included 5dbi Antennas)
Up to 1 Mile Line-of-sight (With Optional Long Distance Antennas)
Wireless RH Transmitter Specifications
Humidity Measurement Range: 3 – 95% RH
Humidity Accuracy: +/- 3 % RH (10 to 90 %) @23ºC
Humidity Hysteresis: ± 1% RH
Ambient Operating Temperature:  -13 to 140 ºF (-25 to 60 ºC)
Hardwired: 12 to 24V DC @ 250mA
RF Power Output: 79mW
RF Data Rate: 250 Kbps
Enclosure: PVC

Wireless Receiver Specifications
Operating Power: 12-24V DC @ 350mA
Operating Temperature: -10 to 130 ºF (-23 to 54 ºC)
Receive Sensitivity: -103 dBm
RF Input Impedance: 50 Ohm nominal
Analog Output: 4-20mA, 1-5VDC (Field Selectable)
Enclosure: NEMA 4X PCT Plastic, 35mm Din-rail or PVC

Wireless Regulatory Approvals
Regulatory: FCC Part 15 (No license required)
FCC(USA) - MCQ-XBEE3
IC (Canada) - 1846A-XBEE3
Note: The standard antennas included with this model allow for a maximum line-of-site (LOS) distance of 600 ft. For greater distances up to 1 mile you will need the long distance antenna option. Order optional antenna model DRWC-24-LRANT.